Factory Farming: The Experiment that Failed Vol. I & II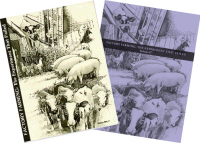 Content no longer current. Of historical value only.
Compilation of AWI Quarterly articles showing intensive rearing of calves, sows and hens and practical alternative methods, Volume I, 1987, 86 pages; Volume II, 2008, 158 pages.
One set free to libraries and humane societies.