The Netflix series Tiger King: Murder, Mayhem and Madness brought unprecedented public attention to the activities of roadside zoos such as Greater Wynnewood Exotic Animal Park (GW Zoo) in Oklahoma. This zoo, formerly owned by "Joe Exotic" and later by Jeff Lowe, has long been a site of deplorable animal cruelty and exploitation.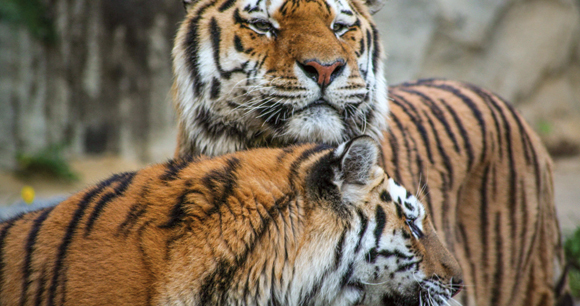 As shown in Tiger King, wild animals were kept in barren cages, fed expired meat that grocery stores couldn't sell, and paraded before the public for profit. The zoo bred big cats incessantly, ripping newborn cubs away to send the mother back into heat and using them as props for numerous people to handle day after day. When the cubs outgrew their use after a few weeks, the cats were caged, killed, or sold. 
After years of looking the other way, the US Department of Agriculture finally took action. An inspection in June found geriatric wolves with pressure sores, a barely responsive 16-week-old lion cub, emaciated bears, and decomposing big cat carcasses in a woodpile. Inspectors also observed several cases of severe fly strike—a painful condition caused by flies biting and laying eggs on an animal, and the hatched maggots then eating the animal's flesh. The inspection report chronicles a consistent failure to consult with a veterinarian or provide needed medical care to the animals. 
In August, the USDA suspended Lowe's exhibitor license for 21 days, and Lowe announced that the GW Zoo was permanently closed to the public. In September, in settlement of a lawsuit, the property will be transferred to Carole Baskin, the CEO of Big Cat Rescue in Florida and Joe Exotic's main nemesis in Tiger King. The animals at the zoo, unfortunately, will remain with Lowe, who is transferring them to his new facility in Thackerville, Oklahoma. According to Lowe, the facility will not be open to the public (thus shielding him from USDA oversight), but will serve, rather, as a set for his own Tiger King spin-off reality show.