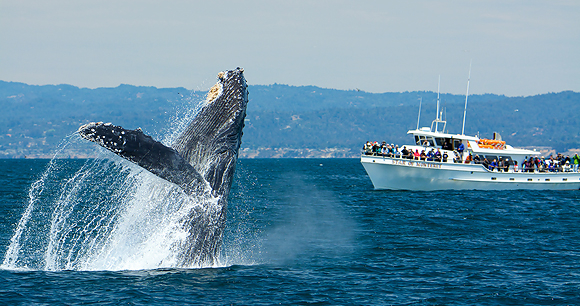 There is something magical about seeing a wild animal up close—especially when it's as big as a bus! Humans have an understandable fascination with whales and dolphins, and the best way to see them is in their natural environment, on their terms. Over 13 million people across over 100 countries go whale watching every year, feeding a multi-billion dollar industry.
AWI supports responsible watching of cetaceans in the wild as opposed to patronizing captive facilities. As well as providing entertainment to those watching, responsible whale watching can provide significant financial returns to local communities, accurate education to passengers, and can foster strong conservation principles.
The demand for wild interactions with cetaceans is increasing. As a consequence, the number of operators offering trips, sometimes to see the same populations of whales over and over again, is also rising. Far too often, whale and dolphin watching involves repeated harassment of animals—which can lead to stress and behavioral changes. In some cases, irresponsible whale watching has led to serious injury and death when animals have been struck by whale watching vessels.
Responsible Whale Watching
If fortunate enough to go whale or dolphin watching, then please do so responsibly, with a reputable outfit that follows a voluntary or mandatory code of conduct designed to minimize impacts on the cetaceans targeted.
There are some general parameters to which responsible whale watching operators should adhere. They are:
The purpose of the trip should be clearly to educate as well as entertain clients, such that they become motivated to care about wild cetaceans and their habitats.
The operator should respect the animals first and the clients second—those "guaranteeing" a whale sighting should not be trusted.
Operator vessels should be fit for the purpose, should have a current permit (if required), should be operated so as not to impact the normal behavior of the animals, respect minimum approach distances and speeds, never approach a whale head on, and limit time spent near the animals.
Clients should never be allowed to touch, feed or throw things to the animals. AWI does not encourage swimming with wild cetaceans, particularly by commercial operators, as it adds a dimension of intrusion into the lives of these free-living animals.
Good operators should know their whales, their habits and threats, and should share the information with clients, such that they come away from the experience knowing more about the animals than when they started out.
The operator should use local help, be attached to the local environment, and be obviously integrated into the community or region.
Depending on the whale watching area, there may be a local code of conduct or set of rules governing whale watching. Although they differ in scope and complexity and some might not ensure complete protection for the targeted cetaceans, adherence strong codes is important. For an analysis of whale watching codes of conduct throughout the world, click here, and for a worldwide review of current guidelines and regulations for whale watching, click here. For a comprehensive review of whale watching locations, science, and codes from around the world, click here.
It is always advisable to check ahead with local authorities to find out if there are any specific codes of conduct or regulations governing whale watching, and then to ask operators if they are certified, are familiar with the rules, or to what standards they adhere.
To report an operator for violating a code of conduct, conducting his/her business irresponsibly, or to report a dead or struck whale in the US, call NOAA at 1-866-755-NOAA (6622). If you are overseas, report the operator to the local chamber of commerce or ministry of tourism and your travel agent if possible.