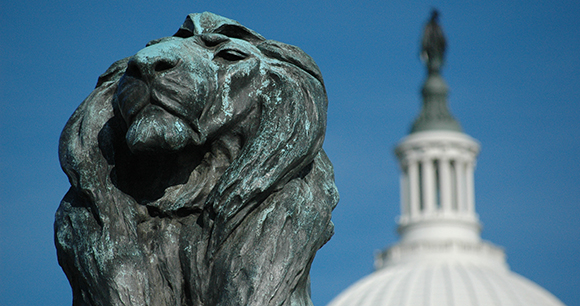 As the unsurpassed leader in obtaining laws to benefit animals in need, AWI's Government Affairs division provides information to Members of Congress and their staffs. We send action alerts to individuals and organizations interested in animal protective legislation, informing them of ways in which they may help—often by writing to members of Congress or other government officials and to the editors of newspapers. You can help our efforts by joining AWI and pledging to contact your legislators about important animal protection issues.
Founded in 1951, the Animal Welfare Institute (AWI) is a non-profit organization dedicated to reducing the sum total of pain and fear inflicted on animals by humans. Before AWI was established, only two laws to protect animals existed: the 1873 "28-hour Law" to protect livestock shipped by rail, and a 1948 law authorizing US Customs to prosecute those who fail to maintain modest standards when shipping animals.
Working diligently for the adoption of the Humane Slaughter Act in 1958, AWI has since aided the successful passage of the vast majority of federal laws and strengthening amendments passed to protect animals, including the Animal Welfare Act, the Endangered Species Act, and the Marine Mammal Protection Act. While passing federal legislation is one of our primary goals, our work also includes combating measures detrimental to animal welfare, and pushing for sound regulations to implement existing laws, as well as strong funding to enforce beneficial government programs.
In 2006, AWI established the Compassion Index (CI), an online legislative action center that tracks the positions of Members of Congress on animal protection measures. The CI gives the public access to current alerts and allows constituents to contact elected officials on key bills, sign up for eAlerts, contact the media, review US Congressional schedules and learn Capitol Hill basics. With all these features and more, the CI's Legislative Action Center is a great place for compassionate activists to start taking action on behalf of animals.
Please visit the Compassion Index—AWI's Legislative Action Center to find your federal legislators and see how much compassion they show on important animal protection measures currently before Congress. The CI also allows you to contact your legislators on these issues.
Before you get started, here's our favorite primer on how a bill becomes a law: School House Rock—I'm Just A Bill.