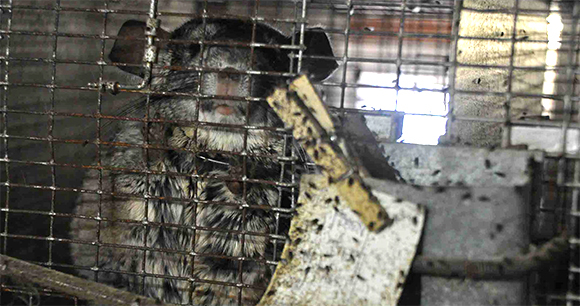 At an administrative law hearing scheduled to begin on Monday, July 26, 2021, USDA attorneys argued that Daniel Moulton, owner of Moulton Chinchilla Ranch (MCR) in rural Minnesota, is a willful violator of the Animal Welfare Act (AWA). For years, AWI has been raising concerns about the abysmal conditions at MCR, which sells its chinchillas to research facilities around the country, and calling out the US Department of Agriculture for failing to enforce the AWA.
AWI had asked to access the hearing, which was held virtually. Respondent Daniel Moulton twice objected to our participation, while the USDA supported our request—arguing that, under the First Amendment, the public had a right to view the hearing. (Had an in-person public hearing been held, AWI would not have needed permission to attend. For virtual hearings, however, login information must be obtained from the court.)
On July 22—one business day before the start of the hearing—AWI and other observers were emailed a list of strict conditions that limited our ability to meaningfully monitor the hearing. The court provided no explanation for these eleventh-hour restrictions. AWI believes that these conditions unreasonably impinged on the First Amendment rights of the press and the public to observe and disseminate information about these proceedings. Therefore, on July 23, AWI filed an objection to the Conditions Order. Because we were unwilling to waive our First Amendment rights, however, AWI was not allowed to observe the hearing.
On August 2, the court issued an order instructing the parties that any response to AWI's objections must be filed by August 6. The USDA filed a response in support of our objections, once again asserting that the public should be granted unlimited access in order to provide a fair hearing for both the USDA and Moulton. Moulton also filed a response, which AWI did not learn about until August 9, on which date the court issued a Deferral Order that delays any decision on whether to remove the observer restrictions until at least August 13—the end of the second full week of the hearing. Because this order continued to unreasonably impinge on the First Amendment rights of the public and the press to observe and disseminate information about these proceedings, and because it lacked any constitutional basis, AWI filed an objection to the order on August 10 and requested to observe the section of the hearing that dealt with our objections. We received no response to our request.
On August 13, rather than issue an order removing the restrictions, the court chose to delay a decision yet again. In an order dated August 16, the court indicated that it would switch to a Zoom platform for the next segment of the hearing (scheduled to begin September 20) and that it would address the restrictions that it had imposed on reporting the outcome of each day's proceedings as they happen. The court indicated that it expects to issue another order within "the next few weeks."
On August 25, in anticipation of a future final court order that continues to impinge on our First Amendment rights, AWI filed an Emergency Motion to Intervene for the limited purpose of preserving such rights. If granted intervenor status, AWI will be able to challenge future adverse court orders, both within the USDA appeals process and in district court. Clearly, AWI's concerns were warranted—on September 13 and 14 respectively—the court issued two orders that modified a few of the restrictions, but did not address AWI's fundamental concerns. On September 17, AWI filed an objection to the new orders, and requested a ruling on our Emergency Motion to Intervene so that we can begin the appeals process. However, AWI's refusal to accept the new conditions means that we will likely be excluded from the remainder of the hearing. Nonetheless, AWI will continue fighting to prevent the lack of transparency at this administrative hearing from becoming the new normal.
2021 USDA hearing
Case name: In re: DANIEL J. MOULTON, an individual, also known as DAN MOULTON, doing business as MOULTON CHINCHILLA RANCH
Case number: AWA DOCKET 19-0004
The hearing is scheduled to span three weeks over a three-month period: 
July 26–30, August 9–13, and September 20–24
 
Summary of allegations against MCR
The complaint (see below) alleges more than 80 separate instances of failure to provide veterinary care and the repeated failure to provide USDA inspectors with access to the premises to assess the dealer's compliance with the AWA. In addition, the complaint cites repeated failure to remove excessive build-up of excreta, food waste, shavings, dust, water, fur, and dead animals in the cages, as well as failure to maintain structurally sound enclosures, provide adequate lighting, use clean water receptacles, employ a sufficient number of staff, and control flies.
USDA court filings (obtained via FOIA)
Background
AWI coverage of MCR
Media coverage
---
Photos
Photos and captions from USDA inspections of Moulton Chinchilla Ranch.
| | |
| --- | --- |
| Swollen, pus filled left eye. From announced inspection. | Left eyelid crusted and swollen, and had a creamy pale discharge. |
| | |
| --- | --- |
| Crusty scabs and open sore under chin around collar that is too tight. | Bottom of neck after collar was removed. Matted hair, eroded skin seen with putrid odor. From announced inspection. |
Hundreds of additional photos taken during inspections are available in the links below. 
(Warning: Some of the photos are extremely graphic.)
2016 | 2017 | 2018 | 2019 | 2020
---
USDA Inspection Reports
MCR operates as a USDA-licensed dealer, # 41-B-0239.
2021:
2020:
2019:
2018:
2017:
2016:
2015:
2014: