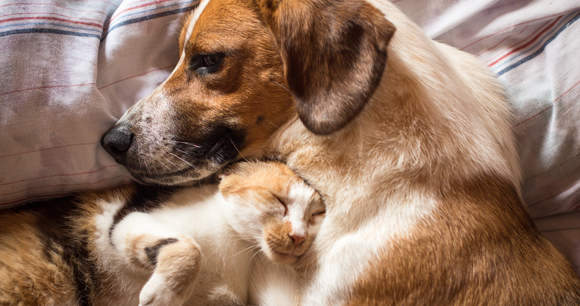 During a 2005 workshop on the link between animal cruelty and human violence held in Maine, some judges and participants noted that they were confused about the legal ability to include companion animals in "protection from abuse" orders for battered spouses and families. This lack of clarity allows abusers to continue to use companion animals as pawns to further intimidate and control family members. Maine was the first state to pass legislation to allow pets to be included in protection orders. Pet abuse is part of family violence, and protection orders need to protect all members of the family—be they two-legged, four-legged or other. Currently 35 states, the District of Columbia and Puerto Rico have such laws.
Even if your state does not have a specific provision, most state Temporary Restraining Orders (TROs) contain language that gives courts discretion to permit additional orders. For example, a court can order pets to be included in a TRO, just as they can provide for the temporary care of children or possession of property. Bond conditions also can include pets. And a TRO can authorize law enforcement to assist with the removal of a pet from a home.
For a list of states with laws that include pets in Temporary Restraining Orders, please go to the website maintained by the Animal Legal and Historical Center at Michigan State University College of Law, "Domestic Violence and Pets: List of States that Include Pets in Protection Orders."
Click here for a model state law for including animals in domestic violence protection orders.
States Where Pets Can Be Included in TROs
The map below shows which states have laws that provide for the inclusion of companion animals in domestic violence protection orders.
Dark green states allow the inclusion of pets in temporary restraining orders.
Light green states do not specifically address the inclusion of pets in temporary restraining orders.
Manuals for Domestic Violence Attorneys and Advocates
Abusers often physically harm companion animals just as they do partners and children. One survey found that 71 percent of pet-owning domestic violence victims reported that their abusers had threatened, injured, or killed their pets. Victims sometimes refuse to leave violent relationships for fear of what will happen to their pets. When seeking services, they may not even volunteer that they have pets—under the false assumption that there are no resources available to care for them.
In November 2014, AWI began publishing state manuals designed to enable lawyers and advocates to further assist domestic violence survivors by getting their companion animals included on protection orders. Compiled by attorneys working with AWI staff, the manuals summarize legal issues surrounding the inclusion of pets in civil protection orders, give details about the laws in that specific state, and provide links to relevant forms and outside resources.
Below please see links for each state manual (as a PDF file) completed thus far. AWI plans to produce a similar resource for every state to make this critical information available to attorneys and advocates nationwide.