In July, the House of Representatives passed HR 8294, a "minibus" package of six spending bills for fiscal year 2023 that includes many wins for animals. For starters, the bill provides funds for Animal Welfare Act (AWA) enforcement and sets forth actions the US Department of Agriculture must take to step up its woeful enforcement of the law and prevent the all-too-common suffering and death of animals at licensed facilities. (Click here for a starkly disturbing example.) Moreover, HR 8294 directs the USDA to prioritize and reissue proposed AWA regulations related to the handling and care of marine mammals in captivity—regulations that have not been updated since first adopted almost four decades ago. The bill also continues the ban on licensing of Class B dealers who sell dogs and cats acquired from random sources for use in laboratories.
The USDA is directed to maintain transparency about the number of humane handling verification procedures it performs and the number of administrative actions it takes in livestock slaughter plants, and to work with producers in developing disaster preparedness plans to protect livestock, who die annually by the millions during extreme weather events.
HR 8294 provides $4.55 million to the USDA's Wildlife Services program to "expand, develop, and implement nonlethal methods with a focus on reducing human-wildlife conflicts related to predators and beavers in the Western Region and Great Lakes." And the USDA must report to Congress on the new Mink SARS–CoV–2 Transmission Avoidance and Monitoring Plan (Mink STAMP), which is designed to monitor for COVID-19 infection on mink farms and minimize the risk of virus transmission among mink, humans, and other animals on and around mink farms.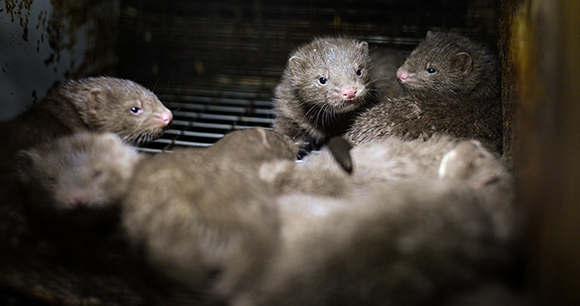 The House package includes several wins for equines—most notably a significant boost in funding for Horse Protection Act enforcement, a permanent ban on the operation of horse slaughter facilities in the United States, provisions to protect wild horses and burros from slaughter, and funds to implement proven and safe immunocontraceptive vaccines to keep wild herds in their natural habitats rather than being subjected to inhumane roundups. 
Under HR 8294, Endangered Species Act programs will receive nearly $355 million, a $77 million increase over last year's budget. This increase is needed to begin addressing a backlog of more than 300 species awaiting protection decisions, among other priorities. In addition, the US Fish and Wildlife Service is prohibited from issuing permits to import sport-hunted elephant or lion trophies taken in Tanzania, Zimbabwe, or Zambia, and must review the Trump-era policies that reduced transparency in the import permitting process. The USFWS also must brief Congress on body-gripping traps used on national wildlife refuges and outline nonlethal methods that could replace trapping for wildlife management purposes.