Since 2010, AWI has partnered with the Humane Education Network for the student contest "A Voice for Animals." Each year, our judges take on the challenging task of choosing the winning submissions from a pool of creative and fascinating entries. For this year's competition, contestants were invited to write about animals in their area and solutions to local issues such as invasive or endangered species, or human-wildlife conflicts. The entries—received from around the globe—did not disappoint. Many of the students recognized how local advocacy and collaboration can foster a sense of pride and appreciation for one's community. While a wide variety of species were represented in video, photos, and writing, several top prizes this year went to the birds.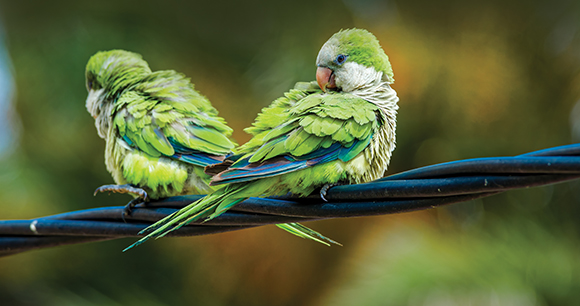 First prize in the "video" category went to Houstonian Adoriam DeWalt, who parlayed her Girl Scout project into a campaign to help migratory birds traveling through Texas on their way to and from Mexico. By educating residents in her hometown about simple, accessible solutions that allow for increased avian-friendly habitat, she demonstrated that small measures can have a big impact collectively. Though her video centered on the importance of helping our feathered friends, Adoriam is also involved in other conservation efforts in her state.
Shannon Hong of Albertson, New York, earned first prize in the "essay" category for her piece on the monk parakeet. The monk parakeet is a colorful, charming bird native to Argentina. In the 1960s, the species was introduced via the pet trade into the United States. Escaped or abandoned birds adapted to the climate and are now considered an invasive species. For several years, Shannon has admired these birds and their well-engineered nests, which often cause problems for power companies. In her essay, she discusses her efforts to inform her community that the birds, though non-native, are not overrunning the ecosystem and need not be maligned as "pests." She touts a bill in the New York State Legislature that could protect these birds from inhumane methods of elimination. 
An essay by Joel Lee of Jakarta, Indonesia, about the illegal wild bird trade in his country earned second prize. Capturing and selling songbirds results in the suffering of individual birds and declines in the populations of species that play an essential role in the ecosystem. Joel considers the cultural aspects that bolster Indonesia's bird markets, and suggests that activities such as eco-tourism can bridge the gap between the excitement of seeing these exotic birds first-hand and the need to promote sustainable populations in the wild. 
Other notable prizes were awarded to essays that covered the effects of human-caused ocean noise on aquatic life, involvement in animal rescue organizations, and how public housing policy reforms can help secure the well-being of humans and their companion animals. AWI congratulates the winners of the 2023 "A Voice for Animals" contest and thanks all of the entrants for their time and hard work examining these critical challenges. Click here to see the complete list of winners and view their entries.