In early January, AWI once again reported on the number of animals killed in barn fires across the United States for the preceding year. In 2021, more than 681,000 farm animals are known to have suffered horrific deaths in these incidents, bringing the total number of farm animals killed via fire in the last two years alone to a staggering 2.3 million.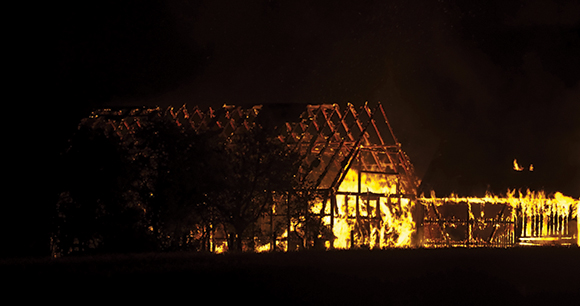 As we have indicated before, these numbers—shocking as they may be—likely fail to represent the full scale of the problem. Fire departments and municipalities are not required to report fires to the US Fire Administration, and even when they do, they don't acknowledge animal deaths. Our tallies of such deaths, therefore, must come from local media reports—which almost certainly do not include every barn fire across the nation that involves animal mortalities.
Of the 113 fires tracked by AWI in 2021, the greatest number—for the second consecutive year—were reported in New York (14) and Pennsylvania (13); these were followed by Iowa (9) and Michigan, Ohio, and Minnesota (8 each). 
Fires on industrial-scale, concentrated animal feeding operations (CAFOs) account for most of the deaths. Consistent with previous years, the overwhelming majority of farm animals killed in fires were chickens. As in 2020, the three largest fires last year involved egg-laying hens in massive cage-free (but still overcrowded) facilities; collectively, these three incidents took the lives of 433,000 hens, or nearly 64 percent of the reported number of animals killed in barn fires in 2021. 
Though the number of animals killed in fires is certainly highest within the poultry industry, other farm animal species are no strangers to the destruction of barn fires. In 2021, for example, more than 40,000 pigs confined on CAFOs are known to have died in fires.
In conjunction with our end-of-year statistics, AWI also released an update to our original report, Barn Fires: A Deadly Threat to Farm Animals. The update points to the increasing devastation caused by barn fires from 2018 through 2021. Among the major findings:
During the four-year period, 539 fires killed nearly 3 million animals.
The average number of animals known to have perished each year in barn fires was more than 748,000—a 36 percent increase from the number of annual deaths reported in the previous study period (2013–2017).
Nearly 98 percent of the reported deaths were poultry, with egg-laying hens accounting for the largest share of fatalities, followed by chickens raised for meat.
Certain fires had particularly catastrophic consequences. The 10 largest barn fires—roughly 2 percent of the total number of reported fires—were responsible for 75 percent of reported deaths.
The majority of barn fires occurred in colder weather, with more than twice as many fires occurring during the winter compared to summer and more often in colder states: As in the previous report, barn fires happened most often in the Upper Midwest and Northeast. The five states with the highest number of reported barn fires were New York, Ohio, Pennsylvania, Michigan, and Wisconsin.