The International Whaling Commission, established in Washington, DC, and headquartered in the United Kingdom since the 1950s, celebrated its 75th anniversary on December 2, 2021. AWI has participated in almost every meeting of the IWC and its committees since the 1960s, and we organized anniversary celebrations this year by the NGO community. The IWC has evolved in many ways since its establishment, and this anniversary provides the perfect opportunity to express gratitude for what it has achieved and define a clear vision of the role it must play in the future as cetaceans and their environment face combined biodiversity, climate, and pollution crises. The next five decades will be critical, and during the anniversary week, AWI and colleagues around the world unveiled a bold 50-Year Vision for the IWC as the center of global cetacean conservation efforts.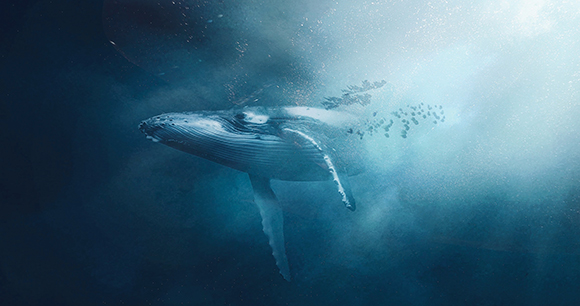 The evolution of the IWC
The IWC—created with the 1946 ratification of the International Convention for the Regulation of Whaling—is one of the earliest international bodies focused on wild species. It was, in many ways, a product of its time. At first, it comprised a small group of industrial whaling nations solely focused on maximizing exploitation amid intense global competition for whale oil. However, thanks to prescient provisions in the treaty that provide a legal mandate for conservation as well as resource management, the IWC evolved over subsequent decades. From only dispensing commercial whaling quotas initially, the IWC eventually moved to ban commercial whaling entirely and develop a management scheme for subsistence whaling by Indigenous people. The organization has now evolved even further to build a strong conservation-based agenda and adopt animal welfare measures, while recognizing the vital ecological role cetaceans play within their ecosystems and in mitigating planetary climate change. 
The IWC's progress over seven decades reflects not just a growing scientific understanding of cetaceans over the same period but also society's increasing support for the preservation of keystone and endangered species and heightened concern for animal welfare. Today, the IWC is a progressive conservation organization representing 88 nations that is central to international efforts to address the threats and challenges faced by all cetaceans, not just whales, including from chemical pollution, marine debris, anthropogenic ocean noise, ship strikes, fisheries bycatch, habitat loss, and climate change. This role has never been so critical. As the health of the world's oceans dramatically declines, cetaceans are in trouble: An estimated 300,000 whales, dolphins, and porpoises are killed annually as bycatch in fisheries alone. Of the 90 species, 12 subspecies, and 28 subpopulations of cetaceans assessed by the International Union for Conservation of Nature, 22 are listed as critically endangered, 22 as endangered, and 16 as vulnerable. Without globally coordinated conservation actions, many species and populations will go extinct within our lifetimes.
At its next meeting in October 2022—its first in-person meeting in four years—the IWC will consider operational and budget reform as part of an important ongoing governance review process. It will also adopt a new strategic plan for its Conservation Committee, the heart of its threat-mitigation agenda. The IWC must also grapple with how its work will be funded. This is a growing concern for many intergovernmental agreements, as revenue from membership fees declines due to the economic strain of the COVID-19 pandemic, impacting important work streams. It is a particular concern for the IWC, where not all member governments support the conservation agenda and threaten to block adoption of budgets. (See below.) 
The launch of our 50-Year Vision
The launch event for the 50-Year Vision on the IWC's 75th anniversary included a keynote address by Dr. Jane Goodall and commentaries by other dignitaries. AWI's Sue Fisher and others gave presentations, and there was a moderated panel discussion with experts and decision-makers, including the chair of the Conservation Committee. Together, we explained the IWC's strong legal basis, global reach, and established mandate to implement and adequately fund a bold international conservation agenda for cetaceans and their environment. As stated in the 50-Year Vision, the IWC should be "at the center of global, regional and local efforts to ensure the full recovery and health of all cetacean populations, safeguard their welfare, and maximize their ecological contributions to healthy oceans." 
IWC Virtual Special Meeting in 2021
Like most international meetings last year, the planned in-person 2020 IWC meeting (IWC68) fell victim to the COVID-19 pandemic. With IWC68 postponed to 2022, the IWC held a virtual special meeting in two short sessions in September 2021 to discuss pressing financial matters and adopt a bridge budget to allow the organization to continue to operate during the next fiscal year. Sixty member governments plus Japan (a nonmember government observer since leaving the IWC in 2019) participated in the discussion, along with five intergovernmental organizations and 24 nongovernmental organizations, including AWI.
The adoption of the budget was almost derailed by pro-whaling nations whose membership fees are in arrears. Although the budget was to be adopted by consensus, these nations protested an IWC rule (common among comparable organizations) that suspends the right of parties in arrears to vote. After a long and difficult discussion, the IWC acknowledged the fiscal challenges of the pandemic on contracting governments, especially developing countries, and instructed a working group to review the practice of other international bodies relating to the payment of fees and to consider alternative rules for voting rights in emergency situations. This discussion document will be considered as the first order of business at IWC68. 
The meeting also discussed the IWC's long-term financial problems caused in large part by the arrears and late payment of fees and a refusal by some countries to agree to an increase in those fees in line with inflation. AWI has prepared a detailed review of how comparable intergovernmental organizations are addressing similar budget problems. Speaking on behalf of 19 conservation and animal protection NGOs, we noted that overemphasizing cost cutting over revenue raising was misguided and suggested several alternative approaches that the IWC may wish to consider, including raising the fees paid by nonmember government observers.