Since 1994, at each meeting of the CITES Conference of the Parties, AWI has honored individuals, organizations, and agencies that have demonstrated excellence in combatting wildlife crime with the Clark R. Bavin Wildlife Law Enforcement Award. The award, presented at a reception hosted by the Species Survival Network, is named in honor of the late chief of the US Fish and Wildlife Service's Office of Law Enforcement, who pioneered the use of covert investigations, sting operations, and forensic science to identify and prosecute wildlife criminals.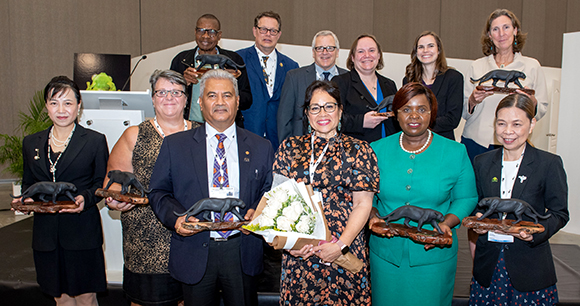 In 2022, AWI, with the assistance of CITES Secretary-General Ivonne Higuero, recognized the exceptional dedication of the nine newest Bavin Award recipients. This year's honorees include rangers, police officers, attorneys, administrators, and special agents who, through complex investigations, tireless field work, and capacity building, have advanced the global effort to combat wildlife crime—a significant factor in the global biodiversity crisis. The following are the 2022 Clark R. Bavin Wildlife Law Enforcement Award recipients:
Ahmed Ali Mohamed, Kenya Wildlife Service law enforcement officer, for planning and executing several covert operations to apprehend poachers and other wildlife criminals in possession of items from protected wildlife species, including elephant ivory, rhino horn, and pangolin scales. 
General Administration of Customs of China Anti-Smuggling Bureau for arresting numerous wildlife criminals trafficking massive quantities of elephant ivory, rhinoceros horn, and other wildlife products; participating in several global wildlife anti-trafficking operations; and conducting educational campaigns to protect wildlife and combat wildlife crime. 
Jonnes Alfred Kadamika, retired head of a Malawi Police covert investigations unit that dismantled one of southern Africa's most prolific wildlife crime syndicates, responsible for trafficking in elephant ivory, rhino horn, pangolin scales, hippo teeth, and other illegal goods. 
Lance Cruse, UK Border Force intelligence officer, for preparing several guidelines, handbooks, and species checklists to aid wildlife crime enforcement efforts and for training thousands of customs and police officers, veterinarians, and others to strengthen their capacity to stop wildlife crime. 
Paul Montuori, US Fish and Wildlife Service special agent, for the arrest and prosecution of individuals and organizations engaged in trafficking of kingsnakes, tarantulas, dried seahorses, pipefish, shark fins, scorpions, and other wildlife parts and products, including from species protected under CITES and the US Endangered Species Act.
Ryan Bessey, US Fish and Wildlife Service special agent, and Ryan Connors, Department of Justice trial attorney, for leading Operation Common Denominator, which resulted in the arrest and prosecution of American and Chinese nationals involved in the cruel smuggling of thousands of CITES-listed turtle species. 
Thanatchon Kengkasikij, Royal Thai police colonel, for combatting forest and wildlife crime—including the illegal trade in big cats, shahtoosh wool (obtained by killing Tibetan antelopes), and elephant ivory—in Thailand and beyond, resulting in the arrest of hundreds of wildlife criminals. 
Tilotama Varma, India Wildlife Crime Control Bureau additional director, for training over 66,000 officers to combat wildlife crime and for coordinating hundreds of multiagency operations targeting the trafficking of turtles, big cats, birds, pangolins, and other species, leading to the arrest of nearly 1,600 wildlife criminals since 2015.