Executive director Susan Millward has been appointed the organization's new chief executive upon the retirement of Cathy Liss at the end of 2022.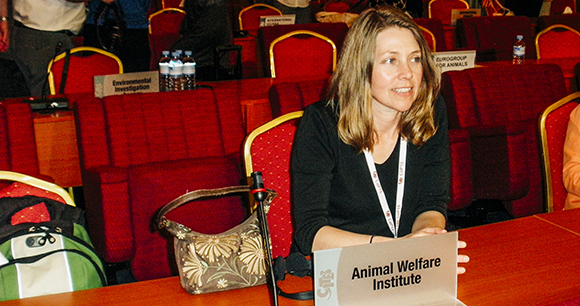 Animals have been a big part of Susan's life since her childhood in England—first in rural Cheshire and then along the southwest coast—with rescued cats, hamsters, rabbits, goldfish, and a dog. After obtaining a BS in Environmental Health and an MBA from the University of Wales, Susan spent a year traveling in India, Thailand, and Nepal—exposing her to all manner of wild and domestic animals, in good and bad situations. On her return to the United Kingdom, she was hired by the US Navy to oversee environmental compliance with EU regulations at its UK bases. She met and married Rob, a US naval officer, which led to a move to the United States—but not to settle, exactly. Susan and Rob hopscotched to naval installations in California, Rhode Island, Virginia, Illinois, and Guam—where she learned to scuba dive and marvel at the ocean's inhabitants in their own element. She worked with the University of Illinois at Urbana-Champaign, researching and drafting its first Spill Prevention, Control and Countermeasure Plan, and later for environmental engineering firms on a variety of projects, while volunteering at animal shelters, a bird sanctuary, and beach and river clean ups.
Eventually, Susan and Rob moved to the DC area. Susan applied for nonprofit animal advocacy positions, including two at AWI in 2003. (As Cathy mentions in her page 2 message, she got both of them.) Over the years, Susan has participated in nearly every aspect of what it takes to keep the organization humming and true to its mission. She's developed and worked on campaigns at home and abroad and represented the organization in numerous meetings involving the negotiation and refinement of international wildlife protection agreements such as the Convention on International Trade in Endangered Species of Wild Fauna and Flora (CITES), the International Whaling Commission, and the Convention on Biological Diversity. 
In 2008, Susan was named director of the marine animal program and executive director (back to working two jobs). She stepped back from executive director duties for a time due to a health issue, but resumed the role in 2022, while handing off directorship of the marine animal program. In addition to being AWI's executive director, Susan serves on the boards of Monitor Caribbean, which works closely with AWI to preserve the biodiversity of the Wider Caribbean region, and the Species Survival Network, which works to strengthen wildlife protections established through CITES. In her downtime, Susan birdwatches, follows the activities of a local beaver family, fosters cats for a Northern Virginia shelter, and volunteers with her son Andrei's scout troop.
Susan says she is looking forward to embarking on this next chapter in her and AWI's intertwined story. AWI's board and staff agree: The organization and the animals are lucky to have her.