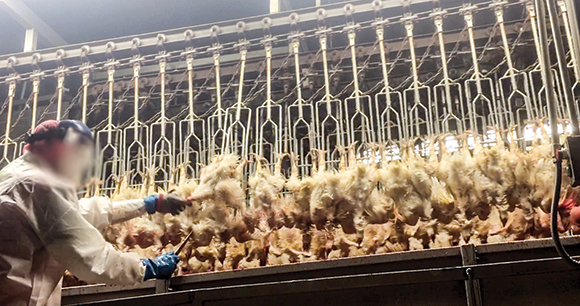 In August 2020, the Animal Welfare Institute and its co-plaintiff Farm Sanctuary sued the US Department of Agriculture for denying a petition for rulemaking requesting that the department require humane handling of birds to prevent "adulteration" (damage or contamination) of poultry products at federally inspected bird slaughter facilities.
According to the Poultry Products Inspection Act (PPIA), the USDA is required to prevent adulteration of poultry products to ensure that products sold in the United Sates are safe for human consumption. As argued in the petition, the USDA's Food Safety and Inspection Service (FSIS), which was delegated these duties by the secretary of agriculture, has failed to meet this statutory mandate by allowing poultry slaughter establishments to engage in practices that result in adulteration of poultry products.
Currently, the only requirement that governs the humane handling of poultry is that breathing must be stopped before a bird enters the scald tank, so that birds do not drown. The FSIS only enforces violations when the facility has committed so many violations that the establishment's process is out of control. Any other practices that result in discomfort, pain, injury, or death other than by slaughter are not covered by current regulations. This includes actions that result in bruising, broken bones, lacerations, and environmental conditions that result in prolonged suffering or death other than by slaughter. Even though the FSIS has acknowledged that a link exists between inhumane handling and adulteration of poultry, it has failed to take action. AWI and Farm Sanctuary petitioned the USDA to prevent this type of handling, as it results in the adulteration of millions of bird carcasses annually.
Unfortunately, on November 25, 2019, the FSIS denied both plaintiffs' petitions stating that the PPIA does not give the FSIS authority to create requirements for the humane handling of live birds at slaughter. AWI and Farm Sanctuary were unsatisfied with this outcome, and chose the last resort of suing the agency to force it to address its failures under the law.
To learn more about humane slaughter, click here. To learn more about the welfare of birds at slaughter, click here.
Case Name: Animal Welfare Institute v. Perdue
Nature of Case: The lawsuit, filed in the US District Court for the Western District of New York, asks the court to set aside the agency's decision to deny the plaintiff's rulemaking decision per the Administrative Procedure Act's requirement that agencies not engage in arbitrary decisionmaking. 
Court: US District Court, Western District of New York
Year Filed: 2020
Plaintiffs: Animal Welfare Institute and Farm Sanctuary
Defendants: Sonny Perdue (in his official capacity as Secretary of Agriculture), US Department of Agriculture, Food Safety and Inspection Service, and Paul Kiecker (in his official capacity as Food Safety and Inspection Service Administrator)
Status: Ongoing
Relevant Documents
Selected Case Media