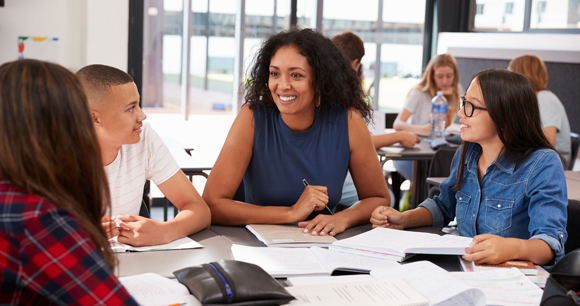 AWI offers publications at no cost to teachers, libraries, and animal shelters. We have also produced children's activities and free classroom lesson plans for a select number of these publications, with more to come. Learn more about our lesson plans and additional teaching resources below.
A Dangerous Life
This graphic novel, written and illustrated by Sheila Hamanaka with Lisa Barile, Rosalie Knox, and Julie Lien and published by AWI and the Kenya Wildlife Service, is ideal for middle school-age readers. The story, set in Kenya, focuses on the true costs of the ivory trade and the importance of both animal and human families. Woven throughout are lessons of conservation and compassion for all living things.
In collaboration with teacher Nancy Kellum Brown, AWI has produced a free classroom lesson plan for A Dangerous Life, which includes activity cards and worksheets that can be used on their own or in conjunction with an interactive notebook. They are applicable across a variety of subjects, including science, environmental education, social studies, and language arts for grade 6 and up.
Learn more about our free publications and how to receive your copy of A Dangerous Life.
The Magic of Touch
For instructors teaching in high school and beyond, AWI offers The Magic of Touch, by Annie and Viktor Reinhardt. This book reviews the scientific and professional literature to present evidence of the calming, stress-buffering, and life-enhancing effect of touch among animals, among humans, and between animals and humans.
AWI has collaborated with Nancy Kellum Brown to produce a lesson plan for The Magic of Touch that is appropriate for courses involving animal behavior, ethology, environmental studies, and philosophy.
Learn more about our free publications and how to receive your copy of The Magic of Touch.
Additional Teaching Resources
In tandem with AWI's books Kamie Cat's Terrible Night and Pablo Puppy's Search for the Perfect Person, we offer additional activities for children, including a printable board game, coloring pages, game cards, and more!
AWI also offers posters for your classroom or learning space. Our Animal Friendly Biology Education Poster depicts animals in their natural habitats as a humane alternative to keeping animals in the classroom. Our Endangered Species Poster features 20 beautiful images of species protected under the Endangered Species Act. In tandem, AWI offers a teacher handout to discuss with the classroom facts about endangered species and actions to take to protect them. Both posters can be ordered from AWI or downloaded as PDF's.