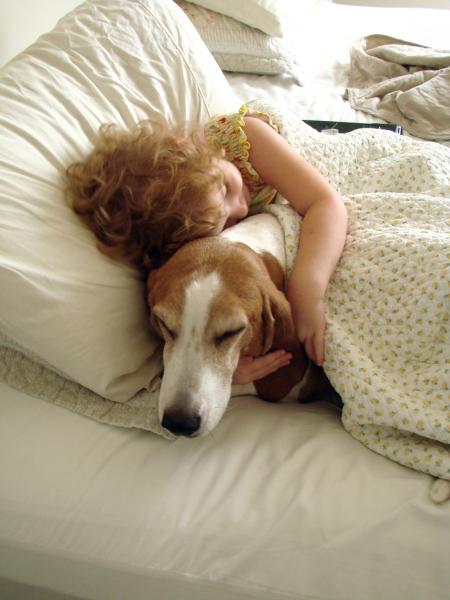 Animal Welfare Institute, National Resource Center on Domestic Violence Collaborate to Share Positive Messages about the Human-Animal Bond to Young Victims
Washington, DC—In recognition of National Domestic Violence Awareness Month, the Animal Welfare Institute (AWI) has partnered with the National Resource Center on Domestic Violence (NRCDV) to provide copies of its children's publications, Kamie Cat's Terrible Night and Pablo Puppy's Search for the Perfect Person, to over 500 domestic violence shelters nationwide.
"Domestic violence can involve everyone in a household—spouses or partners, children, and pets.When children witness violence in the home, including acts committed against companion animals, they are more likely to become victims or perpetrators of violence themselves," said Cathy Liss, president of AWI. "By joining forces with NRCDV, we are acting to help break that cycle by reaching children who are victims of violence through positive stories about compassion and the human-animal bond."
Published by AWI and authored by children's book author-illustrator Sheila Hamanaka, both publications illustrate the important healing potential that animals can offer. Kamie Cat's Terrible Night describes the misadventures of a cat who gets lost and yearns to be home, reinforcing kindness and responsible pet care. Pablo Puppy's Search for the Perfect Person recounts the plight of a puppy and an older dog living in a shelter, teaching the importance of humane treatment of animals. The books will be provided in both English and Spanish to each of the participating shelters.
"AWI has been a wonderful partner in creating high-quality learning tools for advocates to use when working directly with victims of violence who are seeking safety with their pets," said Kenya Fairley, senior director of capacity building and education at the NRCDV. "These beautifully designed children's books, with such fascinating and engaging stories, are great resources that domestic violence shelters can use to help children heal from the abuse they've been exposed to and encourage loving care for the pets and animals in their lives."
Studies have shown that up to 70 percent of domestic violence victims report having a pet. Many abusers are well aware of the strong bond between their victims and their pets, and often exploit that bond to control, manipulate, and punish their victims. Frequently, additional trauma is inflicted on children of domestic violence survivors when their pets have been threatened, injured, or killed. Children exposed to domestic violence have also been shown to be at a significantly increased risk for behavior problems, including animal abuse.
By making the books accessible to children at the participating shelters, AWI and the NRCDV hope that the books will introduce these young readers to the joy of creating positive relationships with animals. The book donation is part of an ongoing collaboration between AWI and the NRCDV staff to address the connection between domestic violence and animal abuse.
To learn more about animals and family violence, visit http://awionline.org/content/animals-family-violence.
###
Media Contact:
Amey Owen, amey@awionline.org, AWI, (202) 446-2128