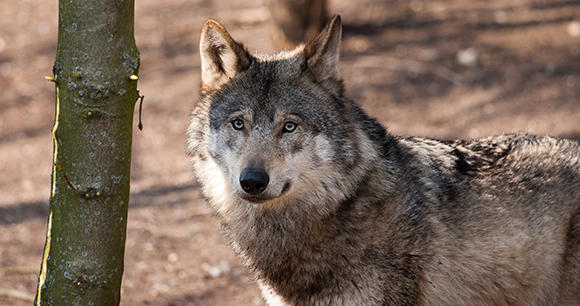 Photo from Flickr by flickr Anders Illum
Washington, DC—The Animal Welfare Institute (AWI) condemns a proposed rule, announced today by the US Fish and Wildlife Service (USFWS), to eliminate Endangered Species Act (ESA) protections for gray wolves across the contiguous United States.
"This attempt to eliminate crucial protections for gray wolves demonstrates an anti-predator bias that continues to influence wolf management decisions," said Cathy Liss, president of AWI. "The undeserved hostility toward wolves is not based on principles of sound scientific management. These apex predators play a vital role in ecosystems, contribute to a multibillion-dollar outdoor tourism industry, and are an iconic symbol of our beloved native wildlife."
Gray wolf numbers, despite gradual growth since the adoption of ESA protections, are still perilously low. There are an estimated 5,000 gray wolves in the contiguous United States where 400,000 once roamed. It is dangerously premature to remove conservation mandates now. This proposed rule would cede management of the species to state agencies. Many of these states, such as Idaho, Wyoming and Montana, have demonstrated their eagerness to institute wolf hunting seasons that permit cruel killing methods. Wolves who are not protected by the federal government have legally been run over by snowmobiles and ATVs, poisoned, snared, caught in barbaric steel-jaw leghold traps, incinerated in their dens with gas or dynamite, and gunned down by aircraft.
Currently, gray wolves are federally protected in the contiguous 48 states except the Northern Rocky Mountain region, which includes Montana, Idaho, Wyoming, eastern Washington, eastern Oregon and northcentral Utah. The Northern Rocky Mountain distinct population segment of wolves, except those in Wyoming, were most recently delisted under a 2011 law that required the Department of the Interior to reissue a 2009 delisting rule, which a court had previously struck down. Wolves in Wyoming were most recently delisted in 2017, when an appeals court reversed a district court's decision that had restored ESA protections for gray wolves in Wyoming.
The proposed USFWS rule will be published in the Federal Register within the next few days, followed by a public comment period.
Media Contact Information