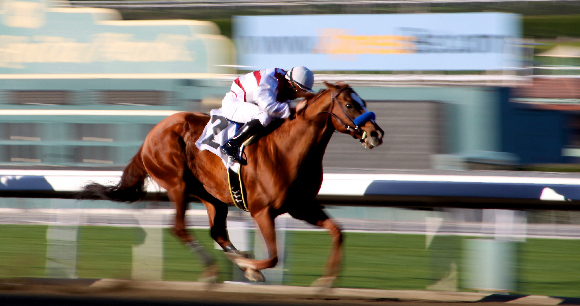 Photo by Underactive
Update: On December 27, President Donald Trump signed the fiscal year 2021 omnibus spending package, which includes the Horseracing Integrity and Safety Act.
Washington, DC—The Animal Welfare Institute (AWI) applauds the passage of the Horseracing Integrity and Safety Act (H.R. 1754/S. 4547) late Monday. This bill, approved by Congress as part of the fiscal year 2021 omnibus spending package, aims to reduce the fatalities and injuries that have plagued U.S. horseracing and end the reliance on performance-enhancing drugs to mask pain, inflammation, and other warning signs that often precede catastrophic breakdowns.
Sens. Mitch McConnell (R-KY), Kirsten Gillibrand (D-NY), Martha McSally (R-AZ), and Dianne Feinstein (D-CA) led the bill in the Senate, and Reps. Paul Tonko (D-NY) and Andy Barr (R-KY) led it in the House of Representatives. The Horseracing Integrity and Safety Act unanimously passed the House on September 29. The bill, which still needs to be signed by President Donald Trump as part of the overall spending package, is supported by animal protection groups and a wide range of stakeholders within the horseracing industry, including the owners/operators of all three Triple Crown racetracks, The Jockey Club, and Breeders' Cup Ltd.
The Horseracing Integrity and Safety Act would create an independent anti-doping authority that would set uniform national standards, testing procedures, and penalties for thoroughbred racing, replacing the inconsistent and often lax regulatory schemes that currently exist among 38 jurisdictions. The nonprofit U.S. Anti-Doping Agency — widely recognized as the nation's premier anti-doping organization — would handle enforcement, laboratory testing, and violations. Importantly, the bill would prohibit race-day medications, aligning U.S. standards with those abroad. The legislation also addresses racetrack safety by creating an accreditation program to ensure that tracks comply with maintenance procedures, as well as a national database to track injuries and fatalities.
Hundreds of horses break down during races each year in the United States — resulting in nearly 10 fatalities per week in recent years, according to The Jockey Club's equine injury database. That number excludes fatalities that occur during training. An overreliance on performance-enhancing drugs contributes to this staggering death toll — one that far exceeds that of other racing jurisdictions around the world. The shocking spate of horse deaths at the famous Santa Anita racetrack outside of Los Angeles — 23 over the course of three months — exposed serious safety and welfare concerns in the racing industry.
"Watching a horse break down on a track is a horrific, yet surprisingly common sight," said Cathy Liss, president of AWI. "We are grateful that Congress has stepped in to hold the industry accountable and curb the reckless use of performance-enhancing drugs, which force horses to compete beyond their physical limits. We thank Sens. McConnell, Gillibrand, McSally, and Feinstein, as well as Reps. Tonko and Barr, for their leadership in seeing this historic legislation to the finish line."
"Kentucky's cherished horseracing traditions deserve to be protected," McConnell said. "I'm proud the Senate agreed to my legislation to preserve our signature racing industry and the 24,000 workers who support it. With the leadership of Congressman Andy Barr, and the partnership of sport leaders, horse advocates, and fans, we're one step closer to promoting fairness and safety across Thoroughbred racing. As Majority Leader, I made this Kentucky-focused legislation a top priority in the Senate. I look forward to this major advancement for our beloved sport becoming law."
"Horseracing has a long and rich tradition in New York. The Horseracing Integrity and Safety Act ensures that the sport will be safer for both horses and jockeys, have higher regulatory standards and oversight, and increases transparency," Gillibrand said. "This legislation will improve New York horseracing and usher in a new era in the sport."
"Since joining Congress, I have made it a priority to pursue historic reforms in the horse racing industry that will solidify the future of the sport for generations to come," Barr said. "Today, Congress put us one step closer toward achieving this goal by passing the Horseracing Integrity and Safety Act. Our legislation creates a uniform standard of competition for the industry and safety standards to protect equine athletes. I want to thank my colleagues, Congressman Paul Tonko and U.S. Senate Majority Leader Mitch McConnell for their partnership in getting this legislation to the finish line."
"For six years now, I have worked in a bipartisan fashion with my friend and partner in this effort, Congressman Andy Barr, to reform this noble sport to ensure it can continue to provide good jobs and support economic vitality in Saratoga Springs and communities like it throughout the nation," Tonko said. "Our Horseracing Integrity and Safety Act does this by putting the well-being of our horses and jockeys front and center, delivering commonsense medication reforms and track safety standards that will restore public trust and confidence. After this long race, I am delighted to see our legislation finally reach the winner's circle and I look forward to ensuring a strong implementation of these new standards so that the sport of horseracing can thrive for generations to come."
###