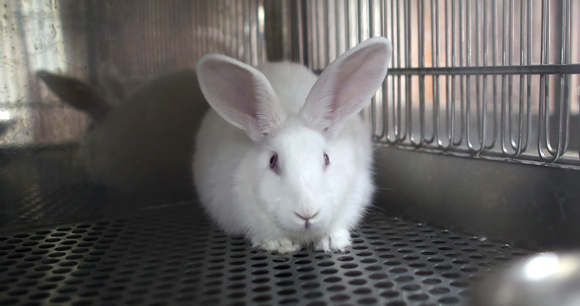 Photo from Flickr by Otwarte Klatki
Washington, DC—The Animal Welfare Institute (AWI) and Cruelty Free International congratulate Illinois for joining California, Nevada, and more than 30 countries worldwide in banning the sale of animal-tested cosmetics. SB 241, sponsored by Senator Linda Holmes (D-Aurora) and signed by Governor J.B. Pritzker on August 9, prohibits the import or sale of any cosmetic if the final product or any ingredient was tested on animals after January 1, 2020.
More than 30 countries, many in the European Union, already prohibit cosmetics testing on animals. The United States, however, has failed to pass a nationwide ban. Last year, California became the first state to enact "humane cosmetics" legislation, followed by Nevada in June. Illinois' new law provides additional incentives for cosmetics companies to invest in non-animal alternatives to help them stay competitive in a changing global market while sparing animals from painful tests.
Cosmetics manufacturers test their products to determine potential human hazards. Ingredients may be force-fed to rats, dripped into the eyes of rabbits, or rubbed onto the bare skin of animals for an extended period. Meanwhile, more than a dozen non-animal alternatives, such as those using human cells and tissues, are readily available and accepted by the FDA and international regulatory agencies. These testing procedures take less time and money, and the results are more applicable to humans.
"Cosmetics testing on animals is inhumane, expensive, and at odds with the laws and regulations of many countries throughout the world," said AWI President Cathy Liss. "We appreciate that the Illinois legislature, Governor Pritzker, and consumers are taking a stand against these archaic tests that cause immeasurable suffering."
Hundreds of successful cosmetics companies of all sizes rely on non-animal testing methods and support globally consistent standards. Besides being more responsive to evolving consumer demands, these companies recognize that non-animal testing methods make more ethical and scientific sense.
"Tragically, despite the availability of approved non-animal tests and existing ingredients that are safe for human use, we estimate that over half a million animals are still used annually in cruel and unnecessary cosmetics testing worldwide," said Monica Engebretson, North America campaign manager for Cruelty Free International. "By ending the sale of new animal-tested cosmetics, Illinois is matching global progress and has become a national leader on this issue."
Media Contact Information