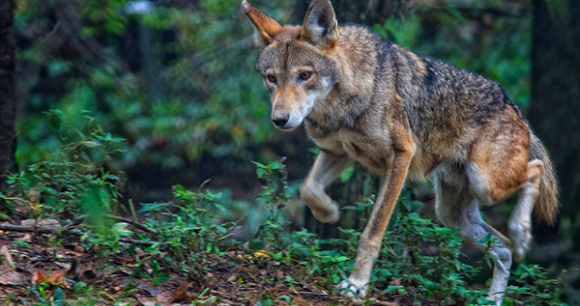 Photo from Flickr by Jim Liestman
Raleigh, NC—Twenty-nine state legislators, including 17 representing North Carolina, submitted a joint statement yesterday condemning a US Fish and Wildlife Service proposal that would decimate the population of red wolves in a designated recovery area of North Carolina. Currently, fewer than 30 red wolves remain in the wild.
On June 28, the US Fish and Wildlife Service (USFWS) announced a proposal that would shrink the red wolf recovery area by 90 percent—to land within the Alligator River National Wildlife Refuge and the adjacent Dare County Bombing Range. This area can support fewer than 15 wolves. The plan would also allow any wolves who left this restricted area and ventured onto private or state lands to be shot without consequence.
The USFWS gave the public until July 30 to submit comments on the suggested changes. To date, most of the more than 50,000 comments received are opposed to the agency's plan.
"North Carolina, its citizens, legislators and a majority of Americans believe that the US Fish and Wildlife Service should expand its efforts to recover the red wolf and its habitat," said North Carolina Rep. Pricey Harrison, a Greensboro Democrat, who signed the statement. "The agency is blatantly neglecting its job and its duty under the Endangered Species Act."
The USFWS proposal comes nearly two years after a federal court ordered the agency to stop capturing and killing endangered red wolves, in response to a lawsuit brought by the Animal Welfare Institute, Defenders of Wildlife and the Red Wolf Coalition, represented by the Southern Environmental Law Center. The animal protection and conservation groups are currently challenging the USFWS in federal court over the agency's recent failures to protect these wolves.
In their statement, the legislators urged the USFWS to consider an alternative plan, "Alternative 2," which recommends regular reintroductions of new individuals to boost the wild population of red wolves, a renewal of efforts to prevent interbreeding of red wolves and coyotes, stepped-up law enforcement against poachers, and broader outreach to local residents.
"Rather than reverse red wolf recovery and accelerate population loss by diminishing the North Carolina recovery area, [the USFWS] should work to better protect the existing wild population through actions such as reducing gunshot mortality and gaining support from adjacent landowners," the legislators wrote.
The red wolf recovery program was once a model of success. By 2006, an estimated 130 to 150 wolves roamed the five-county recovery area. These naturally reclusive animals threatened neither humans nor livestock. Rather, they preyed on animals such as the nutria—which the state has spent millions to eradicate—while keeping the coyote population in check. Despite this early success, the USFWS has chosen not only to ignore the recommendations of expert biologists and abandon the red wolf recovery program, but also to sanction the slaughter of these endangered animals.
###
Editors' Note: Photographs of red wolves are available for use with appropriate photo credit from the US Fish & Wildlife Service at http://www.fws.gov/redwolf/
Media Contact Information