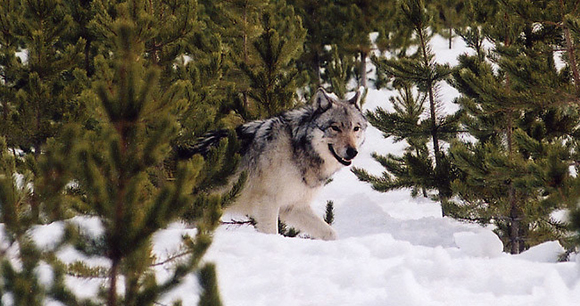 Photo by MacNeil Lyons/National Parks Service
Washington, DC—Nearly 2 million Americans, joined by the Animal Welfare Institute (AWI) and a broad coalition of animal welfare and environmental organizations, have registered their opposition to a US Fish and Wildlife Service (USFWS) proposal to gut Endangered Species Act (ESA) protections for gray wolves across the contiguous United States.
The USFWS received more than 1.8 million public comments opposing the wolf delisting plan by its deadline yesterday. The total number of comments ranks among the highest ever submitted on a federal decision involving an endangered species. In addition, 86 members of Congress, 100 scientists, 230 businesses, and 367 veterinary professionals all submitted letters rebuking the administration's plan to cede management of the species to state agencies.
Upon reviewing the submitted comments, the USFWS will prepare and publish a final rule in the Federal Register.
"The outpouring of opposition to the federal government's attempt to eliminate crucial protections for gray wolves shows how much the American people value this native species," said Cathy Liss, president of AWI. "Wolves are an integral part of our heritage and our landscape, and we shouldn't undermine the progress that has been made toward their recovery. These apex predators play a vital role in ecosystems, contribute to a multibillion- dollar outdoor tourism industry, and are a beloved symbol of our nation."
Gray wolf numbers, despite gradual growth since the adoption of ESA protections in 1974, are still perilously low. Scientists estimate there were once hundreds of thousands of wolves in the lower 48 states, but today only a tiny fraction remain. Currently, gray wolves are federally protected in the contiguous 48 states except in the Northern Rocky Mountain region, which includes Montana, Idaho, Wyoming, eastern Washington, eastern Oregon and northcentral Utah.
Many states, such as Idaho, Wyoming and Montana, have demonstrated their eagerness to establish wolf hunting seasons that permit cruel killing methods. Wolves who are not protected by the federal government have legally been run over by snowmobiles and ATVs, poisoned, snared, caught in barbaric steel-jaw leghold traps, incinerated in their dens with gas or dynamite, and gunned down by aircraft.
Media Contact Information