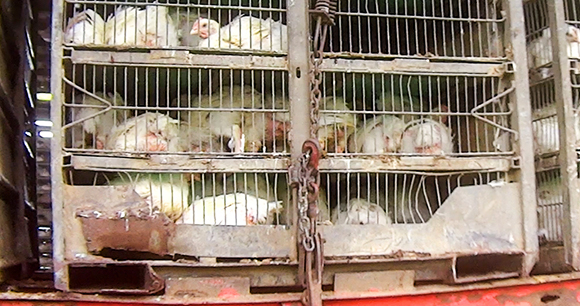 AWI and Farm Sanctuary sued the US Department of Agriculture for failing to respond to a Freedom of Information Act (FOIA) request for department records related to the treatment of animals in US slaughter plants. The lawsuit is based on a 2016 amendment to FOIA that requires federal agencies to proactively post records that are subject to frequent requests.
The suit, filed in the US District Court for the Western District of New York, asks the USDA to proactively post records relating to the enforcement of two laws dating to the 1950s—the Humane Methods of Slaughter Act and the Poultry Products Inspection Act. Such records expose inhumane treatment of animals at slaughter plants across the country, including incidents of workers throwing chickens and improperly stunning pigs and cattle, and transporters abandoning trucks full of animals for hours in hot weather. Animal advocacy groups review hundreds of these records annually to monitor USDA enforcement and produce reports, action alerts and policy recommendations based on the findings.
Because these records are essential to AWI's work advocating for improved treatment of animals at slaughter facilities and are the basis of campaigns, reports, and action alerts, AWI seeks a legal remedy to expedite the process by which it receives the records. Posting these records proactively online is efficient, and allows advocates to continue campaigns in a more effective manner.
Click here to read more about humane slaughter.
Case Name: Animal Welfare Institute v. US Department of Agriculture
Nature of Case: The Animal Welfare Institute brought claims against the US Department of Agriculture (USDA) for failing to proactively disclose records as required by the Freedom of Information Act (FOIA). AWI alleges that because these records have been requested dozens of times, the agency is required by FOIA to post the records online without requiring individual requests.
Court: US District Court, Western District of New York
Year Filed: 2018
Plaintiffs: Animal Welfare Institute and Farm Sanctuary
Defendants: USDA Food Safety and Inspection Service
Status: Ongoing
Relevant Documents
Selected Case Media